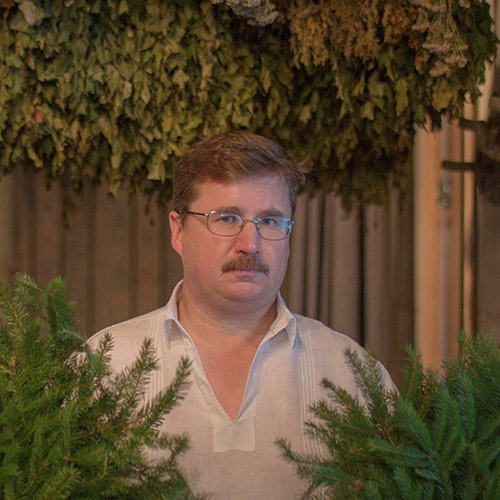 Vilnis Lejnieks
Pirts master
Vilnis is a Pirts master and spiritual healer with 15 years of professional experience. Vilnis specializes in Pirts procedures which can help you work through various psycho-emotional situations on a spiritual and physical level.
He also offers relaxing, healing and themed Pirts days and rituals, including birthdays, solstice celebrations and Pirtīžas (a Pirts ritual for a newborn and parents).
Ivita Pičukane
Pirts master
Ivita is a Pirts master and healthcare professional. She holds a Masters degree in Pedagogy and lectures at the Faculty of Medicine of the University of Latvia, the Spa School and the Pirts School. Ivita's professional life is committed to medicine in the classical sense, specifically newborn pathology and adult neurology. Ivita is currently employed as the senior nurse at the Diagnostics Centre.
In her practice Ivita relies on the holistic union of people and events which encompasses the body, spirit and soul. Inita thoroughly enjoys performing healing Pirts rituals and body treatments. She also offers Pirtīžas (a Pirts ritual for a newborn and parents) and Nedēļnieces - a Pirts ritual pampering the mother of a newborn in Pirts (performed within six weeks of giving birth).
Nauris Mālnieks
Pirts master
Nauris favours a creative approach to Pirts sessions, treating every Pirts day or ritual like a unique stream of new sensations and emotions. It can be calm, relaxing or charged with energy - choose the one that suits you and enjoy!
Nauris is a certified Pirts master who favours a creative approach to Pirts sessions. He offers individual Pirts sessions and special Pirts rituals for birthdays, newlyweds, couples and friends. Fun bachelorette and bachelor parties are also on offer. Nauris promotes healthy and active lifestyle and works as a health coach for families. He includes health-promoting and traditional massage elements in his Pirts sessions. During health and wellness enhancing procedures he uses natural materials, rhythm tools and decorative elements. These can promote the flow of senses and emotions to relax or stimulate. 'Enjoy the magic of Pirts through sounds, scents and the touch of Pirts besom - rediscover yourself.'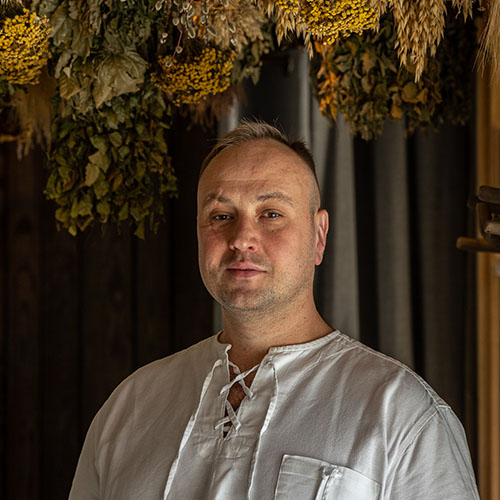 Daņils Beļajevs
Pirts master
Doctor after basic education, certified spa master and Bowen technique specialist. During the treatment, Danils helps to get rid of the daily fatigue, anxiety and pain, giving peace and love through touch.
Danil says: I live and rejoice in that which is bestowed. I change myself every day and I change the environment in which I operate. I like working with people. I do it with full dedication and great joy. In my sauna practice, I help clients with the energy of their hands and share experiences. Every pirts (latvian sauna) ritual is like an adventure, during which I help clients to feel their real Inner Self. I talk to through touch. Calm… quiet… safe… reliable…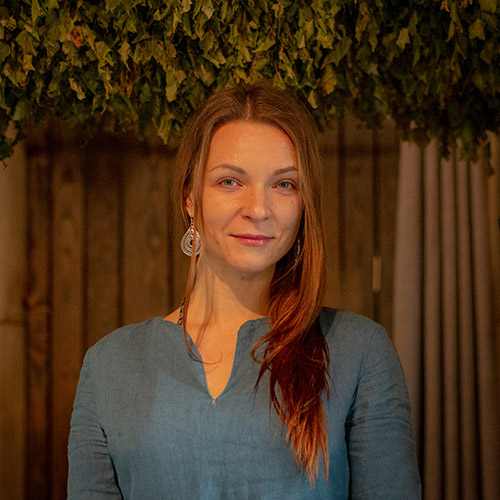 Inese Īle
Pirts Master and Masseuse
Inese is a Pirts master, masseuse and healer. She practices therapy using Chinese traditional medicine, thought field and bowtech methods. Inese also teaches quigong, yoga and enjoys performing music.
Inese's lives by loving and respecting the body with a broad knowledge about the union of body and mind. 'During Pirts rituals I use the wisdom gained from various practices around the world (China, India, Tibet) in conjunction with the power of Latvian plants, energy and sound harmony. By deeply sensing the current emotional and physical needs of every person during the ritual, I help to awaken the natural healing processes of the body, to balance the bodily energies, to restore the inner balance and the ability to let go and enjoy the natural flow. Every Pirts ritual is a unique adventure during which the rhythm, smell, taste and the power of touch unite to awaken all your senses so you can experience joy and a deep feeling of vitality. You will feel hot and cold, taste sweet and bitter, sense slow and rapid. Soft, flowing, light, upbeat, intangible, inspiring, changing, joyful - simply very, very good - this is what my Pirts day is like. Let's enjoy it together!
Uldis Zīle
Pirts Master
Uldis will pamper you with quiet affection and lots of attention. The fir and leaf besoms he uses are made of plants, chosen specifically to cleanse and strengthen your body and soul - their touch carries scents of summer, sense of winter and the whispers of wind.
Pirts is Uldis' true vocation and holds a special place in his heart. Uldis will pamper you with quiet affection and lots of attention. The fir and leaf besoms he uses are made of plants, chosen specifically to cleanse and strengthen your body and soul - their touch carries scents of summer, sense of winter and the whispers of wind. With the quenching power of water and the healing powers of Latvian nature, with soft sounds he will tune you in for a new shift of life. Let it be!
'I do what I love and love what I do. Complete trust and letting go will help you experience the full spectrum of sensual enjoyment the magic of Pirts offers.' Uldis encourages to allow, trust, believe, enjoy and be merry!
Laila Sējāne
Pirts Master, Masseuse and Spa Specialist
'It is important to me that everyone in my Pirts day enjoys the warmth, generosity and wealth of Pirts through the senses promoted by warmth (the spirit of Pirts) and the touch of besom. When finished, your soul and spirit should feel cleansed, you should feel full of energy and at peace with yourself, the world and Pirts.
Before I enter Pirts, I feel entirely casual, but as soon as I take hold of the besom, I feel like I become part of the force of creation. It gives me the power to free the Pirts-goer from any bitterness of daily life, hardship, anger, perhaps even hatred and offense. The Pirts adventure liberates the soul from pain and instead fills it with love, light and joy - the joy to live and create. I can help to awaken the strength to believe in oneself. Seeing the spark of light, love and peace in Pirts-goer's eyes after a ritual is pure joy.'
Armands Virsis
Pirts Master and Masseur
Mani raksturo mīlestība un rūpes par klientu, smaids, viegla, gaisīga enerģija un īpašo slotu burvība.'My sessions are best described with affection and care towards each client, smile, light and gentle energy and the magic touch of special besoms.'
Armands is a certified Pirts Master. He represents the Pirts School, the Light School (Pirts energy practice) and the Pirts Water School of Lielvārde (specializing in energy work, ergonomics and a special method of besom tying). His massage expertise involves healing, reflexology, reiki, anti-migraine, honey, sports and relaxing essential oil (cade) massages as well as bay mud application.
Pirts is a holy space where each of us can search for and find that which is most important to us - peace, warmth, flow, enjoyment, relaxation or invigoration and a fresh start. It offers the energy of love and vitality. Every Pirts ritual I perform is a unique process, it grants you the sensations and wishes you need on that day and in that moment, in order to achieve fulfilment and self-realization.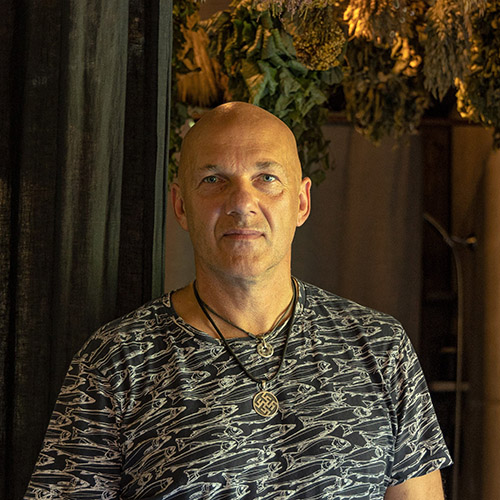 Arvils Andersons
Pirts Master and Masseur
Arvils is a Pirts specialist with more than 30 years of experience. Regular practice of massage, Pirts and an active lifestyle has naturally developed a genuine interest in the body.
'I perceive the Pirts ritual as the act of healing the physical and spiritual body. During a ritual the physical body is released to allow the spiritual to encounter one's inner power - that of the soul. In this journey I am a guide - steady, calm, able to listen and understand the real you. Throughout centuries the practice and power of Pirts traditions has helped people to start afresh - to be reborn.
I am a certified specialist and regularly practice classical and healing massages, as well as vibro-acoustic massage using a Tibetan singing bowl and wicker.'